EXPORT AWARDS
Export Awards is a TradeInvest Timor-Leste annual initiative organized by the Export Promotion Directorate. The first national Export Awards in Timor-Leste was successfully held in 2017.
Awards Overview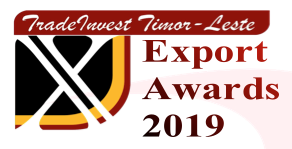 The main objective of Export Awards is to recognize and encourage efforts made by enterprises in any industry sector, which has been exporting or has potential to export Timor-Leste's products to international market. An independent panel selects winners based on selection criteria in the categories of existing exporter and potential exporter. The awards are presented to winners during a gala dinner event that provides opportunity for enterprises to expand their networks.
2019 Winners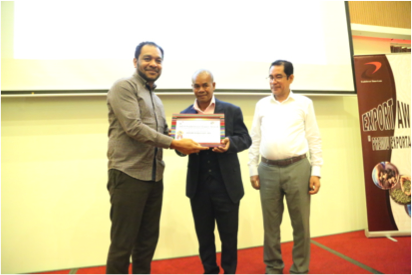 2019 marks the 3rd year of the TradeInvest Export Awards. A new category has been added to award the start-up businesses with export orientation. Thanks to 2019 major sponsors: Timor Plaza Hotel and Apartments, Palm Spring Hotel, Heineken Timor-Leste and Pertamina International Timor. The winners of the 2019 Export Awards were ACELDA as existing exporter of the year. ACELDA exports organic candlenut oil to Hawaii and China market, sells local rice and cosmetic products to domestic market, employs 50 local people and engages with more than 100 local farmers.
The winner of the second category was Farm Pro as potential exporter of the year. Farm Pro selects specialty Arabica coffee as the primary export product, which will export internationally under the brand "FarmPro Specialty Coffee". As part of marketing strategy, Farm Pro will export roast coffee directly to consumer in Australia under the brand "Timor Mountain". Farm Pro also engages in selling fresh vegetables to domestic markets and employs 11 Timorese staff.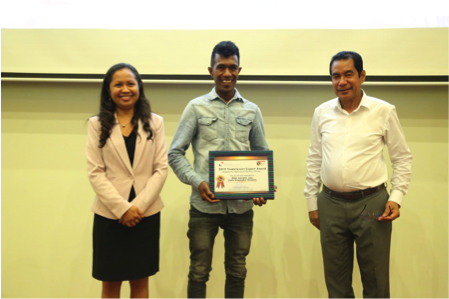 The winner of the third category was Café Organiku Atsabe as start-up business of the year. Café Organiku Atsabe is run by an energetic young Timorese with very small capital of investment. Café Organiku Atsabe focuses on high specialty coffee, has engaged in contract with Origin Coffee Australia, and employs 2 permanent, 2 volunteers local Timorese and 30 seasonal workers.


2018 Winners
The 2nd year of TradeInvest Export Awards was sponsored by Timor Plaza Hotel and Apartments, TL Cement, GMN, Heineken Timor, Vinod Patel and Pertamina International Timor. The winners of the 2018 Export Awards were Cooperativa Cafe Timor (CCT) as existing exporter of the year. CCT exports agricultural products, has a 20 year history in Timor Leste and employs 550 local people.




The winner of the second category was Mahanaim Garment as potential exporter of the year. Mahanaim Garment trades in high fashion women's garment under the brand "Ita Nia", is 18 months old and employs 15 local people.
2017 Winners
The first ever TradeInvest Export Awards was organized in 2017 with sponsorship from Timor Plaza Hotel and Apartments and Telemor. For the 2017 Export Awards the winners were Outspan Agro Timor for category of existing exporter and Nova Casa Fresca (NCF) for category of potential exporter.
Outspan Agro Timor engages in coffee industry that has been 100% subsidized by Olam International (Global Agriculture Commodity Player). The company exports both Arabica and Robusta coffee mostly to USA and employs 104 local people.
Nova Casa Fresca engages in horticulture business, mainly in production of fresh and organic vegetables. The company engages with 37 agricultural groups end employs 20 local people.
Please address your export related enquiries to TradeInvest at dpe@investtimor-leste.com.