QUALITY OF LIFE
Timor-Leste is a developing country but Dili, the capital, in particular offers a wide range of options for schooling, housing, medicals services and leisure. This has been in response to the large number of overseas workers and families who have made Dili their home in the past 20 years during the reconstruction of the country.
There are a range of International schools for children of all ages with reasonable fees based on international standards: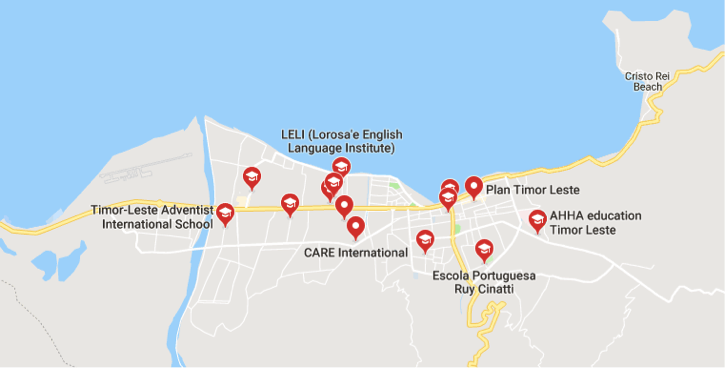 For more information on international schools in Dili see the following links:
QSI International School of Dili
Dili International School
There is a wide range of accommodation in Timor-Leste ranging from stand-alone houses in Timorese communities to gated communities. There are no estate agents to help but there are several very active facebook pages where accommodation is regularly advertised. Good quality accommodation can be found for US $1,000/month.
Healthcare is still developing in Timor-Leste but private medical services can be found in Dili where the majority of ex-pats live. The main private health service is Stamford Medical:
Stamford Medical Facebook
There are plenty of leisure activities in Dili including shopping, bike rides, walks, bars and sporting activities. There are a wide range of restaurants from simple local eating places (warungs) to international quality cuisine dining.
The use of mobile phones is the predominant and preferred mode of communication. There are three telecommunications providers for mobile phones/internet in Timor-Leste. Internet is via 4G modems and 4G routers and there is very good coverage (over 96%) across the country. In 2021, National Communication Authority of Timor-Leste (ANC) issued license certificate for the first two national companies in internet connectivity such as Metrolink and Gardamor as Internet Service Provider (ISP) which will provide a better internet connection to facilitate the agency and the government including communities to acess to a stable and secured network.
An ordinary visa is designed for foreigners who travel to Timor-Leste for tourism or business. The visa fee is US $30 and allows a maximum length of stay of 90 days, valid for up to one year with one or multiple entries. Longer stay visas are available for overseas business workers subject to certain conditions.
Visitors to Timor-Leste can drive on their valid country driving license for up to 3 months. Any longer and they must obtain a local driver license from the Department of Transport.
A useful source of information for anyone planning to work or visit Timor-Leste is the Dili Ex-Pats site which can be found at:
Dili Ex-Pats Facebook