AGRICULTURE SECTOR
Largest Employer
The results of 2019 Agricultural Census, revealed that 141,141 Timorese families live depend on agriculture, which is equivalent to 66%, of the 213,417 from the total number of households in Timor-Leste. The report indicated, 85% agricultural properties are led by man and 15% are woman. The statistic shows that there is potential for sizable growth, diversification, transformation and investment. There are opportunities for investment in agricultural development and processing for the local market in a number of primary products.
Household Agriculture Holding And Type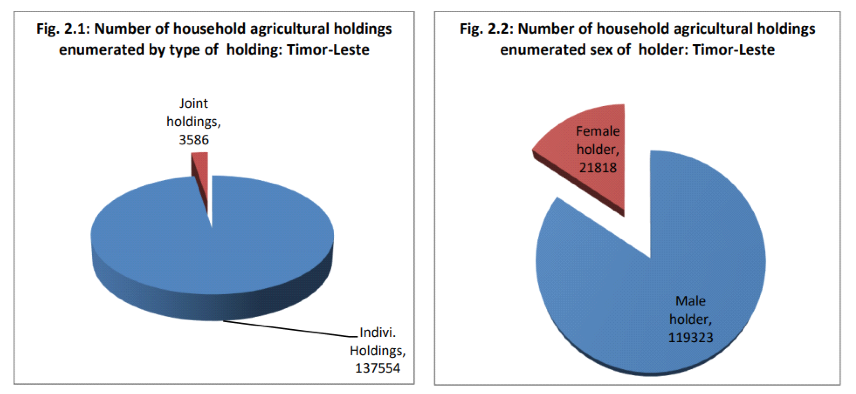 Source: DGE-MoF, Timor-Leste Agriculture Census: 2019 (p.26)
The results of 2019 Agricultural Census revealed the total 141 141 household agricultural holdings, around 98 percent (137 554) were individual holdings, and merely 2 percent (3043) were joint holdings (as shown in Figs. 2.1 & 2.2) that were operated by two or more holders from the same households or from different households. About 15 percent (21 818) of holders were female and the remaining 85 percent (119 323) holders were male.
Source: DGE-MoF, Timor-Leste Agriculture Census: 2019 (p.26)
The results of 2019 Agricultural Census presented Baucau reported the largest number of household agriculture holdings with 17 960 while Manatuto, the smallest municipality, had 5 548, nearly one-third the number of holdings as Baucau. Next in the order of largest to smallest municipalities were Ermera with 16 100 holdings, Bobonaro with 14 190 holdings, Oecusse with 13 599 holdings, and Viqueque with 12 672 holdings. The largest number of joint household agriculture holdings was reported in Manufahi (639) followed by Baucau (406) and Ermera (383). Differentials in the number of male and female holders, noticed at the country level, are also revealed across the municipalities. [Ref. Fig. 2.3M]
Agricultural Products
Main commodities for domestic and international markets include coffee, rice, corn, beans, carrots, cassava, cinnamon, clove, potatoes, nutmeg, taro, konjac and organic horticulture (fruit, vegetable, cashew, cocoa, coconut oil, and vanilla). In 2015 there were approx.163,000 households in Timor-Leste producing crops (mainly for self-consumption).
| Product | Cropping Households % | Major Growing Districts |
| --- | --- | --- |
| Maize | 87% | All Areas |
| Cassava | 80% | All Areas |
| Beans | 63% | Liquica, Manufahi |
| Coffee | 47% | Ermera, Aileu |
| Rice | 44% | Oecusse, Baucau |
Source: Statistics Agriculture and Fisheries Census (2015)
Coffee
The agricultural potential of Timor-Leste can be seen in the current production and export of coffee. Coffee is a profitable investment area, performing well in domestic and international markets and is the primary non-oil export from Timor-Leste. The industry body, Timor-Leste Coffee Association, works to improve quality standards and strengthen the brand of Timorese coffee. In 2020, the Macau Post highlighted in one of its news publications that Timor-Leste coffee is purely organic and tasty, and its civet coffee is of high quality. Thus, Small countries such as East Timor scored big success at the 3rd China International Import Expo (CIIE) as visitors kept lining up in front of the booth for a taste of the civet coffee from Timor-Leste was made and served by an on-site barista.
Timor-Leste Coffee Association facebook


The gross agriculture area cultivated in Timor-Leste was about 509 226 ha, or around 2.36 times the total agriculture area of all household agriculture holdings. Seventy-two crops and plants were grown during the reference period of which thirteen major crops accounted for around 70 percent of the total area cropped. This was led by corn (18 percent), rice (7.6 percent), cassava (7.4 percent), coffee (6.3 percent), Coconut (5.8 percent), Banana (5.4 percent), Teak (4.2 percent), Mango (3.6 percent), Sweet potatoes (2.8 percent), Papaya (2.4 percent), Candlenut (2.1 percent), Taro (2.0 percent) and Areca nut (1.9 percent). The remaining 56 crops and plants accounted for 30 percent of the gross cultivated area.
Government Support
The Government of Timor-Leste supports investors by distributing production inputs to farmers including high quality seeds, training, and farming equipment. The irrigation Infrastructure Fund projects are supporting food production, improving distribution and food security. Irrigation projects have been completed in Raibere, Oebaba, Carauln, Bebui and Cassameta. There are seven ongoing irrigation projects.
Investment Opportunities
As the investment in infrastructure improves the accessibility to the interior of the country and foreign aid and technical assistance improve the skills base of farmers. The agriculture landscape in Timor-Leste is evolving from a mostly familiar and subsistence practice into the initial development of more commercial ventures.