AGRICULTURE SECTOR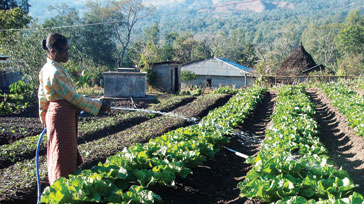 Largest Employer
Over 64% of working adults in Timor-Leste work in agriculture, creating the potential for sizable growth, diversification, transformation and investment. There are opportunities for investment in agricultural development and processing for the local market in a number of primary products.
Agricultural Products
Main commodities for domestic and international markets include coffee, rice, corn, beans, carrots, cassava, cinnamon, clove, potatoes, nutmeg, taro, konjac and organic horticulture (fruit, vegetable, cashew, cocoa, coconut oil, and vanilla). In 2015 there were approx.163,000 households in Timor-Leste producing crops (mainly for self-consumption).
| Product | Cropping Households % | Major Growing Districts |
| --- | --- | --- |
| Maize | 87% | All Areas |
| Cassava | 80% | All Areas |
| Beans | 63% | Liquica, Manufahi |
| Coffee | 47% | Ermera, Aileu |
| Rice | 44% | Oecusse, Baucau |
Source: Statistics Agriculture and Fisheries Census (2015)
Coffee
The agricultural potential of Timor-Leste can be seen in the current production and export of coffee. Coffee is a profitable investment area, performing well in domestic and international markets and is the primary non-oil export from Timor-Leste. The industry body, Timor-Leste Coffee Association, works to improve quality standards and strengthen the brand of Timorese coffee.
Timor-Leste Coffee Association facebook
Government Support
The Government of Timor-Leste supports investors by distributing production inputs to farmers including high quality seeds, training, and farming equipment. The irrigation Infrastructure Fund projects are supporting food production, improving distribution and food security. Irrigation projects have been completed in Raibere, Oebaba, Carauln, Bebui and Cassameta. There are seven ongoing irrigation projects.
Investment Opportunities
As the investment in infrastructure improves the accessibility to the interior of the country and foreign aid and technical assistance improve the skills base of farmers. The agriculture landscape in Timor-Leste is evolving from a mostly familiar and subsistence practice into the initial development of more commercial ventures.